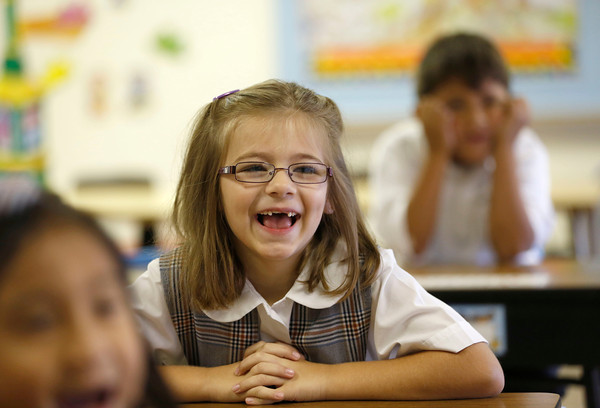 All students and families are welcome at St. Albert the Great. Prospective parents must complete an application form and submit it to the Principal's office.
The application process for current families begins the week after Catholic Schools Week. At Open House, St. Albert the Great begins accepting applications for new students. From that point on, applications received for new and current families are filled on a first come, first serve basis. A waiting list is created for new and current families once a grade level has reached capacity.
Families of new students receive acceptance letters by mid-May. The letter also provides information about academic testing for new students in grades K-8.
Current Year Enrollment (2016-2017): Please inquire with the administration office at 708-424-7757.
2017-2018 Enrollment: The admission's process for new students begins during Catholic Schools Week at our Open House in January. Open House is held for both current and new families. This is a great opportunity to visit the classrooms, meet the teachers and principal.
Click the link to download our new student Application Form.
Schedule a Tour: All new students and families are encouraged to schedule a tour of the school. Please click here to schedule your tour today.
Open House Dates:
Thursday, February 2, 2017
6:00 p.m. Formal presentation by Pastor and Principal followed by tours of the school.
Sunday, February 5, 2017
Drop in and visit after Masses with refreshments:
9:00 a.m. (School Family Mass)

10:30 a.m. (bi - lingual in English & in Polish)

12:00 p.m. (English Mass)

1:30 p.m. (Polish Mass)
By Appointment
Accommodations for appointments after 6:00 p.m. can be made with advance notice by calling the school office at 708-424-7757.