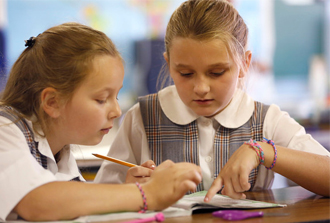 Our curriculum is focused on the

spiritual, academic, physical, social, and emotional

development of our students. We are certified by the State of Illinois, as are our teachers, and we operate within the guidelines set forth by the Archdiocese of Chicago Office of Catholic Schools.
Our instructional programs begin with three-year-old preschool and continue through grade eight. Our Early Childhood Program is offered to children aged three through six.
The ACT Aspire standardized testing is administered in grades three through eight in the early spring of each year. Individual results are provided to parents and our school scores are published here on our webpage.
Our faculty, staff, and volunteers are committed to the protection of children and youth, and fully comply with the requirements of the Office for Protection of Children and Youth run by the Archdiocese of Chicago.
St. Albert the Great is the proud recipient of the CME Grant, which funds a Personalized Learning program at our school. Our teachers in grades K-8 are trained in the Personalized Learning approach to education, which is Learner Focused, Learner Led, and Learner Demonstrated. 
To learn more about our Personalized Learning program, please visit http://www.leapinnovations.org/
Technology in the curriculum is available on a daily basis in all grade levels. St. Albert the Great owns two iPad carts that service our students, as well as a fully functional computer lab, computer pods in every classroom, SMART boards, and Chromebooks. St. Albert the Great teachers maintain Google Classroom, as a means of communicating with students and parents.
The Educational Technology tools we use are: ESGI,ThinkCerca and Moby Max.
Please visit here for more information:
Additional Resources
In addition to the standard classroom and Personalized Learning curriculum, St. Albert the Great offers the following courses to its students:
| | | |
| --- | --- | --- |
| Religion | 5 times per week | Pre - 8th grade |
| Physical Education | 2 times per week | Pre - 8th grade |
| Music | 2 times per week | Pre-8th grade |
| Art | 1 time per week | K - 8th grade |
| Social Emotional Learning | 1 time per week | K - 8th grade |
| Library | 1 time per week | Pre - 4th grade |
| Library | 2 times per week | 5th - 8th grade |